About Zelena laguna (Green laguna)...
Zelena Laguna, 3km south from Poreč, is one of the best equipped tourist villages on the whole coast of the Jadran Sea. There are more restaurants, pizza places, pubs, coffee bars, bakeries, and grill terraces with dance music then anywhere else on the coast. In Zelena Laguna there is also a big entertainment center "Byblos" which has a night bar to go out dancing and a casino. Near the newly build chapel St. Nicholas you have a great place to look at the beautiful scenery of the nearby towns and lagoons. In the sport centers you have a great variety of sport and recreation possibilities…26 tennis courts, 3 grass soccer fields out of which 1 has night time lighting, there are also basketball, indoor soccer, volleyball and handball playgrounds and areas to play mini golf and table-tennis. In Zelena Laguna you can also find a diving and snorkeling base, a ski lift for skiing on the water, places to rent bicycles, boats, small sailboats and a firing range. In the village there is also a center for physical therapy, saunas, mail office, first aid office and many shops…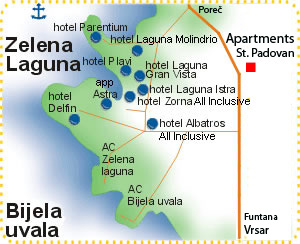 The beaches in Zelena Laguna are mainly rocky with concrete places to sunbathe and with easy access to the sea, but you can also find pebble and sand beaches which are well suited for younger swimmers. To get to Poreč you can use the small "touristic train", local bus or a small touristic boat.